Parent Teacher Conferences
18 hours ago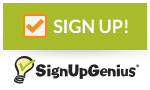 ---
Signing Up is Easy!


Step 1: View the Sign Up Page

Step 2: Choose the Items You Want

On the sign up page, click the "Sign Up" buttons next to the slots you want to sign up for.

You can click more than one.

Scroll to the bottom of the page and click the big "Submit & Sign Up" button.
Step 3: Enter Your Contact Info

You will now see a second page where you can enter your contact info.

If you have an account previously, you can simply login.

If you are new to the site, you can type in your information.

After you have completed the form fields, click "Sign Up Now" at the bottom of the page.

Step 4: Add Event to Your Calendar! (optional)

• The "Thank You" page will display indicating you have successfully completed the steps to sign up!

You can click on a calendar icon displayed to add the item to your calendar if you'd like.